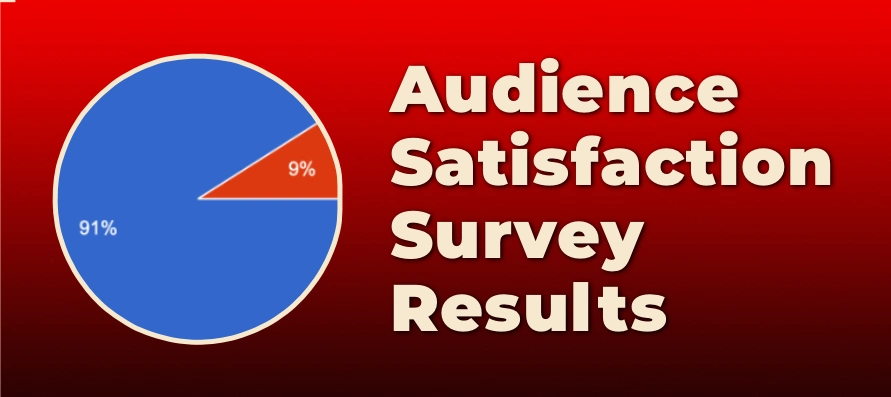 Arsenic and Old Lace Audience "Highly Satisfied"
Audience satisfaction ratings for BLT's recent production of Arsenic and Old Lace were overwhelmingly positive, according to data from the most recent online survey of people who had purchased tickets for the play. More than nine in ten (91.1%) were "very satisfied," and the remaining (8.9%) were "satisfied" with the overall value of their entertainment purchase.
Audiences also gave high satisfaction ratings for the quality of the actors portraying their roles (80.4% very satisfied, 18.5% satisfied) and the visual quality of the production, including sets, lighting, and costume designs (86.8% very satisfied, 13.2% satisfied).
The BLT sends an online survey after each production to each ticket purchaser and subscriber who has opted-in to receive such electronic correspondence. In addition to questions about the show, the survey assessed audience satisfaction with the ticketing and check-in process, parking access, and theatre comfort. Responses again were overwhelmingly positive.
The survey also questioned patrons on the type of plays they enjoy. Top choices included comedies 99%, mysteries 77%, dramas 59%, and farce/slapstick 51%. Patrons also provided suggestions for future BLT productions and which other cultural events they attended frequently.
Patrons also were invited to share additional comments and suggestions. The BLT board of directors and the play selection committee each value audience input and will use it to plan future initiatives and improvements.
The online survey was distributed by email on October 7, 2023, to 281 individuals who purchased tickets for an Arsenic and Old Lace performance, had a valid email address, and opted-in to receive email communications from the BLT. These patrons purchased 52% of the tickets for the eight performances. As of October 14, patrons submitted 92 completed surveys, generating a 33% survey response rate, with a margin of error of 9.78% at 95% confidence.